FA Cup verdict: Manchester City 1 Manchester United 0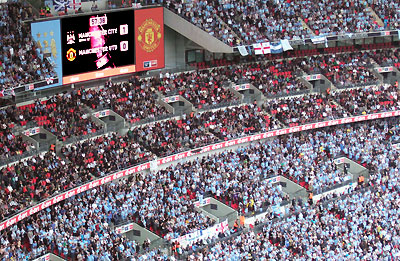 Goal: Y Toure 52 mins for City.
City secured their finest victory in the Sheikh Mansour era thanks to a Yaya Toure strike early in the second half. The prize is a return to Wembley to take on Stoke in our first FA Cup final since 1981.
Truth be told neither side brought their best game to the final. United were stronger in the opening half hour while we had the better of the same period in the second half. The difference was Yaya Toure taking our golden chance while Berbatov fluffed theirs.
The sending off of Paul Scholes ought to have made the final period easier, though nerves appeared to affect our passing. A shame as a second goal would have made the closing minutes a lot more enjoyable! Ultimately it didn't matter and the release of joy at the final whistle was monumental.
Mancini had begun the day springing few surprises in his selection. The biggest one was the continued absence of Micah Richards after his alleged miraculous recovery from injury.
This meant the continuation of Kolarov at left-back amid fears of him being on the receiving end of a roasting by Valencia. It didn't happen as the Ecuadorian was surprisingly subdued.
Stretching teams by attacking down the flanks is traditionally a key tactic for Fergie, and to limit them in this drastically reduced the threat. After his recent absence, Zabaleta made a slow start but grew into the game. By the second half the Argentine was carrying the fight to United and bombing forward as we sought a second goal. Little wonder he's a Mancini favourite.
Pablo also made one overlooked contribution in the first half that helped change the whole momentum of the game. From a United corner, Berbatov headed onto the roof of the net. In challenging for the ball, Zabaleta caught the Bulgarian on the nose, forcing him to receive treatment for the resulting nosebleed.
Down to ten men, United retreated slightly and City were able to pass the ball around. It ended up with Silva on the right flank, who feinted to go outside before cutting back and crossing for Barry to spin and fire our first real attempt into the side netting.
With this act, our confidence grew while United were forced onto the back foot. Balotelli and Yaya came into the game at last.
"In the second half, we dominated the game. I am happy because we had fantastic spirit and we beat a team like United."
Throughout the game Yaya played high up the field, close to Balotelli, ensuring they could link up when City sought an outlet. Silva roamed, while the state of play could often be judged by how far advanced Barry was.
All this was dependent on a solid foundation and City had one in de Jong, Kompany, Lescott and Hart. The one touch passing which created Berbatov's first opportunity was the only time United successfully played through the middle. The following lapse in concentration to give the Bulgarian his second chance was also a one-off. From then on United's efforts were speculative and Joe Hart was in commanding form.
Berbatov's influence disappeared following his nosebleed, while Balotelli's grew. It was never going to be easy playing as a lone striker against Vidic and Ferdinand, but Mancini's work with the 20-year-old in training paid off. This was a disciplined display, with crisp passes bringing team-mates into play and intelligent runs deserving of better passes than he received.
Of course the goal itself came from a defensive error, but it was one forced high up the pitch by City's adventurous play. Yaya's guile saw him take the ball on a diagonal path avoiding the challenge of Vidic, while retaining enough of an angle to pass the ball under Van der Sar. It was a beautifully composed finish which made a mockery of suggestions that our players might suffer from a lack of experience on this stage.
From then on we were dominant, with confidence coursing through our play. United looked as jaded as ourselves after a host of Europa League games. Ferguson may rotate his squad well, but there was little left in the tank here. Giggs was foolishly rested and unable to supply the openings he had against Chelsea. Nani offered only a free-kick which Hart tipped onto the bar. All in all a bad day for the quiet neighbours.
Wright-Phillips rightly came on for a fading Adam Johnson and nearly created two goals with his running. Without the cushion of a second goal, anxiety became our biggest enemy and we conceded too much possession. Fortunately Mancini has the Italian trait that was missing in Mark Hughes of being able to close games out. Our defensive organisation saw us through five minutes of stoppage time and then it was time to celebrate.
"I believe when you win games like this it should give you belief for the rest of the season.

"If we can win this FA Cup, which is not going to be easy at all, it will be the first step towards what we are trying to do."
Looking ahead, the end of the season promises to be dramatic and potentially historic. Who would have thought Tony Pulis would again be on the Wembley touchline when we seek a repeat of that Gillingham experience.
The league game with Stoke a few days later will be one for conspiracy theorists if we win the cup. Ourselves securing a top four place would then give Stoke a Europa League place. That shouldn't be a concern now.
The priority for Mancini is to get the team focussed on winning the four league games before we return to Wembley. Then we can focus solely on the lifting of silverware.
External reports:
Blog reports:
Video: